It's Official Researchers agree You Need Vitamin SEA!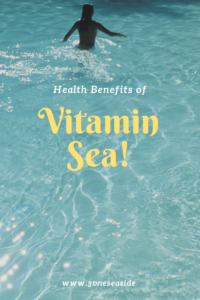 This morning as I was perusing Dr. Mercola's articles, I came across an article, I just could not pass on.
"Health Benefits of Living Near the Ocean"
Catch the link below for a full rundown on the details or catch my quick take on it below
Finally, a little research behind the benefits of living within .6 miles or less of the ocean or "Gone SEASIDE." Lol sorry, I couldn't resist. Just another reason for me to go seaside.
So the researcher found out that people who lived closer to the ocean experienced better mental health than those living more than 31 miles away.
The risk was equated to a 25% lower risk of poor mental health compared to others living inland. The ranges they gave were .6 mile and 3.1 miles from the coast.
In Europe, they have what's called a BlueHealth project, and they are looking into how inland waterways and coasts affect health and disease. And there's also research going on in Canada that reveals that living near water reduces the risk of premature death by 12-17%.
So the next time anyone tells you, you don't need that beach vacation; just point them to Dr. Mercola's article and tell them Doctor's orders!
Just getting a little vitamin Sea!
Happy Travels